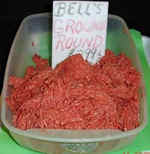 Hamburger doesn't fight back. A ground sloth wasn't your average prey species–it would have been a challenge bringing down a healthy adult. Greg McDonald says an average full-grown Megalonyx weighed approximately 2400 pounds (McDonald, 2005). There's some uncertainty about their weight, as you might imagine, given the paucity of complete skeletons,  but let's go with it.  Besides, that's probably a conservative estimate–our adult was a lot larger than average.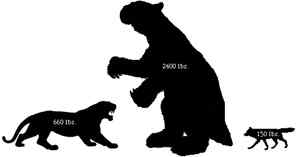 Best estimates put the weight of adult dire wolves at about 150 lbs. (Lange, 2002).  Sabertooth cats weighed in at 660 lbs http://genericoitalia.it/. (Barton et al., 2002.   In other words, these two formidable predators weighed just 6% and 25% of the average Megalonyx.  Putting that in a human perspective, that's a predator of 10 lbs. and 45 lbs. respectively — house cat and dalmation-sized, assuming an adult human weight of 175 pounds–nothing to lose any sleep over.
There's some debate about whether the sabertooth was a solitary or social hunter, but one thing is sure—any predator that hunted Megalonyx needed lots of help.  That's important because Haynes says packs of predators eat in highly predictable ways.  Next post:  Haynes's signs of predation.   Dave
References
Barton, M., Dunleavy, S., Gray, I., White, A. 2002. Prehistoric America:  A journey through the ice age and beyond. Yale University Press, New Haven CT.
Lange, IM. 2002.  Ice Age Mammals of North America:  A guide to the big, the hairy, and the bizarre. Mountain Press Publishing Co., Missoula, MN.
McDonald, HG. 2005. Paleoecology of extinct Xenarthrans and the great American biotic interchange. Bulletin of the Florida Museum of Natural History 45: 313-333.