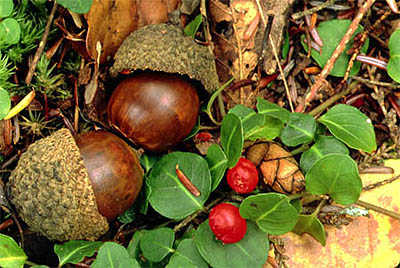 We've received our preliminary reports on the fossil seeds and pollen from . The seeds are what you would expect to find in the backwater-areas of a river—wetland taxa and weedy types profiting from the local disturbances. The pollen report is intriguing though– oak, pine, cedar and hickory, with some more weeds and lowlanders tossed in. A couple of things stand out—of course there are many different kinds of oaks and pines, etc., each with its own requirements, but generally they all need large doses of direct sunshine to grow. Their seedlings don't survive in the shade. We found the tip of one spruce needle, but this doesn't add up to being a dense boreal spruce forest. With oaks and hickories, etc., it feels a lot like the Iowa we know—different species possibly, but in form and type of trees, the landscape we inherited from the Native Americans 150 years ago. Photo borrowed from)
The Tarkio Valley was obviously a lot more diverse than this— most seeds and pollen don't survive 12,000 years under ground, and plants differ markedly in the amounts they produce. Seeds don't travel as far as pollen so they provide a close-up picture of the site, albeit distorted by the varied dispersal mechanisms plants have evolved. Water can carry seeds long distances, but the velocity of the water here was very low, so these seeds came from nearby. Pollen provides a wide-angle view of the valley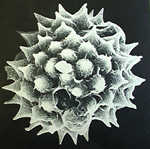 beyond its floor, but that brings other caveats. A pollen count is more likely to pick up the trees that rely on the wanderings of the wind for fertilization–they have to be prolific. Plants that use animal transporters (e.g. insects) can be more conservative, so they show up less often. Wind speed, direction and tree height all affect where and how far pollen travels. Altogether, the reports paint a picture with some intriguing possibilities, and future opportunities. (Pollen SEM's borrowed from the National Pollen Aerobiology Research Unit.)
We can't know for sure the exact texture of the Tarkio Valley uplands, but the pollen evidence points to the kind of open woodland that researchers say was widespread late in the Pleistocene (Wright, 1984). Sunny open woodlands need something to keep them open though—moderate disturbances that kill swathes of mature trees on a regular basis. There aren't too many candidates—drought, floods, disease, high winds, lightning,/fires, and the residents themselves. There's a place for all of these in our Pleistocene disturbance regime, but Owen-Smith (1987) suggests the primary role was played by the megamammals in the community (i.e. weighing > 1 ton), as they do wherever they live in Africa today. That would make Megalonyx one of the leading actors, along with mastodons and mammoths, in maintaining this woodland and making it possible for the oaks, etc., and many other species to thrive here.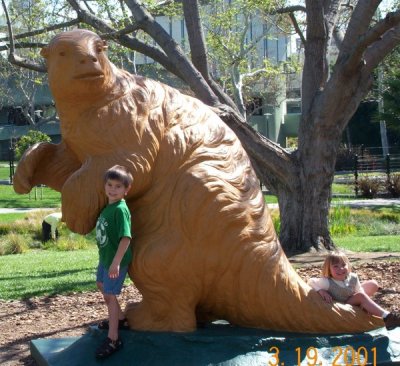 Armed with the plant and tree lists, our knowledge about seed and pollen dispersal, and some reasonable assumptions about the missing pieces, including the Ice Age "orphans" and "ghosts," plus of course the omnipresence of these amazing sloths, we have the basis for developing an exciting and highly educational Ice Age park or garden. Imagine an interpretive trail with life-size models of the megafauna, with informative signs identifying the animals and various trees, and discussing their interrelationships. The opportunity to address the topic of climate change at the end of the Pleistocene–humankind's last experience with global warming–could serve as an unparalleled teaching tool for addressing our most serious contemporary environmental challenge. If such a park could be located near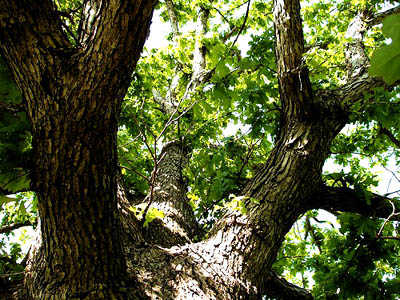 a river there would be the opportunity to add  a wetland  and riparian educational dimension. It would be a compelling attraction and opportunity for commercial development . . . . But, there is a need in Iowa for more than this. We need real habitat protection, and ecological research into how best we can preserve and share our remaining natural lands with wildlife in the 21st century. An ice-age-themed zoological park combining plants and animals could help accomplish that goal and provide a venue for researching some of our current ecological problems. (photo by Bret Rogers)
Oak trees are disappearing from Iowa today. Oak seedlings need wide sunny openings to survive, but as our forests become overgrown with maples and other shade-tolerant species, life for the tenants on the ground floor is getting increasingly difficult. The reforestation of the eastern US is widely heralded, but the new growth bears little resemblance to the oak-pine-hickory woodlands there before European settlement.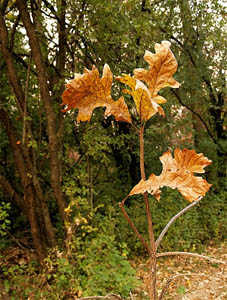 There has been almost no reproduction of White Oaks for a century in the eastern half of the continent and little recruitment of most of the other major upland oaks for 50 years (Abrams, 2003). The potential impact on our native ecosystems is devastating. A vast number of plants, fungi, insects and other animals, and uncounted micro-organisms have evolved to live on, in and around oaks, and when their hosts vanish the survival of the entire community is jeopardized. The cause of the problem is rooted in the Ice Ages and the loss of animals like the sloth. (Photo by Bo Mackison)  To be continued.  Next time—disturbing thoughts. . . . Dave
References
Abrams, M.D.

 

2003. Where has all the White Oak gone? BioScience 53: 927-939.
Owen-Smith, R.N. 1987. Pleistocene extinctions:

 

the pivotal role of megaherbivores.

 

Paleobiology 13: 351-362.
Wright, HE. 1984. Late quaternary environments of the United States.

 

In The Late Pleistocene, SC Porter (ed.), Vol. 1. U. of Minnesota Press, Minneapolis, MN.