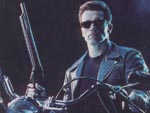 How big is our adult sloth? Greg McDonald says the average adult Megalonyx weighed 2,400 pounds (McDonald, 2005).  That's based on a standard formula used to approximate the weight of mammals based on measurements of their femurs, and engineering principles relating the strength of a column to its cross-sectional area.  I'm a little dubious about applying the formula to sloths though. There's nothing normal about the shape of most of their bones.  Even a simple measurement like the femur's diameter isn't straightforward. Add a lingering uncertainty about sloth locomotion and lifestyle (bipedal vs. quadrupedal), and any weight estimate has to taken with a grain of salt.   But, as Greg once told me, you have to start somewhere, and why not with the bone used in all the other mammals, and a bone that's been recovered often enough to provide a reasonably-sized sample.  If you stick to femurs, at least you can compare sloth weights in relative terms. We've recovered an adult femur and you'll see a weight estimate when Meghann, our resident anatomy expert, is sure we're measuring it from the right anatomical points.
Caniniform teeth, because they are found in fair frequency, offer another way to compare Megalonyx sizes in relative terms.  Caniniforms are the front teeth, or tusks, in Megalonyx and some other sloths.  Why not just call it a canine? Sloths seem to have evolved them independently from the other mammals in a nice example of convergent evolution, so paleontologists call them a form of canine rather than a canine proper.  In the same way, they refer to sloth molars as "molariforms."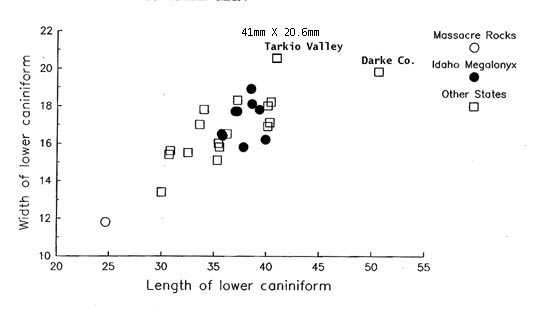 The figure above, taken from McDonald (1998) compares Megalonyx lower caniniforms from 25 different individuals. We added a point showing the approximate measurements of the Tarkio Valley adult. Ground sloths were evolving to grow larger over time, so the size of the tooth suggests we have a late Pleistocene specimen that weighed well over 2,400 pounds–in fact, it may be the second-largest Megalonyx ever found.  That will have to do until we get Meghann's analysis.   The point off on the far right is the giant specimen from Darke County, OH that Greg once called the "Arnold Schwarzenegger" of Megalonyxes.   Arnold looks to be slightly bigger but we're not through measuring.  All I can say is,  "Hasta la vista, baby. . . ." Dave
References
 McDonald, H.G. 1998.  The Massacre Rocks local fauna from the Pleistocene of southeastern Idaho. WA Akersten, HG McDonald, DJ Meldrum and MET Flints (eds.), In And Whereas. . . Papers on the Vertebrate Paleontology of Idaho Honoring John A. White, Vol. 1, Idaho Museum of Natural History Occasional Paper 36: 156-172.
McDonald, HG. 2005. Paleoecology of extinct Xenarthrans and the great American biotic interchange. Bulletin of the Florida Museum of Natural History 45: 313-333.