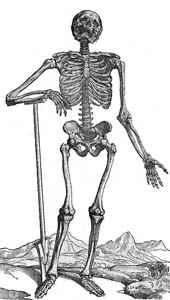 What kind of evidence of a disease would survive after 12,000 years?  As a cause of death among animals, disease is probably a much more significant factor than predation, especially if they are under stress, though given the penchant of predators to pick out the weak and infirm, it may be difficult to distinguish (Shipman, 1981).  A disease that could kill 3 sloths at once would have to have been dangerous and fast-acting, but can you prove it from fossils?
A hypervirulent disease has been suggested as a possible cause of the Pleistocene mass-extinction (MacPhee and Marx, 1997). The theory is humans or their dogs (or their fleas) brought a pathogen with them when they arrived in the New World, and while they were immune, the New World fauna was not, and large mammals died in unprecedented numbers–a dress rehearsal, if you will, for the devastation wreaked by measles, small pox, etc. when those pathogens arrived with Europeans 12,000 years later. But small pox didn't exterminate dozens of species.
As a rule, disease-causing microbes adapt to a limited number of hosts with a life-style and genes that make them susceptible. Diseases that can infect widely disparate species are rare. MacPhee and Marx offer rabies and Leptospira as models for the plague microbe, though neither has the requisite characteristics today (e.g. aerosol transmission, range of hosts, etc.). You also need to assume some different social systems among the infected animals, i.e. more direct contact to maintain the plague. Of course, you don't need to assume a super bug killed the Tarkio Valley Trio–a bad sloth-cold could have had the same effect if stress had left them vulnerable.
Proving the sloths died of a fast-acting acute disease is a challenge. Such diseases generally act on soft tissues, rarely do they leave an imprint on bone (Manchester, 1987). A long-term chronic disease has a better chance of leaving fossil evidence, but arthritis, or another such disease couldn't kill three sloths at once. Does that just leave us with an interesting theory and no way to prove it? Maybe not.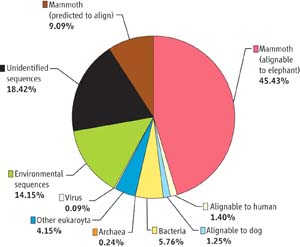 The ability to detect disease directly in fossils took a giant leap forward in 2005 when Hendrik Poinar, in the Ancient DNA Center at McMaster University in Hamilton, Ontario, and an international team, succeeded in sequencing 28 million base pairs (bp) of DNA from a well-preserved Siberian wooly mammoth jaw (Poinar et al., 2006).  In a field where getting a few hundred bp of DNA is viewed as a significant achievement, they recovered 13 million bp of the mammoth's genome. The remaining sequences were traced to a wide range of internal viruses and bacteria, a number of soil organisms, and even the mammoth's last meal. Poinar's team used a database of DNA sequences on file at the National Center for Biotechnology Information (NCBI), and software they developed, to identify the DNA sequences down to the species level in many cases.
Sequencing DNA from our fossils is a long shot. The mammoth was preserved under ideal conditions. Iowa's wet temperate climate makes finding DNA extremely unlikely. However, the NSF wants us to try and Poinar has agreed to help. Who knows what we'll discover along the way–hopefully proof we have a sloth family, and maybe entire internal and external ecosystems in those fragile strands . . . . Dave
References
Poinar, HN, Schwarz, C, Qi J, Shapiro, B, MacPhee, RDE, Buigues, B, Tikhonov, A, Huson, DH, Tomsho, LP, Auch, A, Rampp, M, Miller, W, Schuster, SC. 2006. Metagenomics to Paleogenomics: large scale sequencing of Mammoth DNA. Science 311(5759): 392-294.
http://www.sciencemag.org/cgi/content/full/1123360?DC1#REF14
Rowe, B. 2005. Re disease and mass extinction The sneeze heard 'round the world: disease and the great Pleistocene extinction. Abstracts, Society for American Archaeology 70th Annual Meeting, March 30-April 3, 2005, Salt Lake City. P. 254.
MacPhee, R.D.E. and Marx, P.A. 1997. The 40,000 year plague: humans, hyperdisease and first-contact extinctions. In Natural Change and Human Impact in Madagascar. S. Goodman and B. Patterson (eds.) Smithsonian Institution Press.
Manchester, K. 1987. Skeletal evidence for health and disease. In Death, decay and reconstruction: Approaches to archaeology and forensic science. A. Boddington, AN Garland and RC Janaway (eds.) Manchester University Press.
National Center for Biotechnology Information (NCBI) http://www.ncbi.nlm.nih.gov/Taxonomy/taxonomyhome.html
Shipman, P. 1981. Life History of a Fossil: An Introduction to Taphonomy and Paleoecology, Harvard University Press.