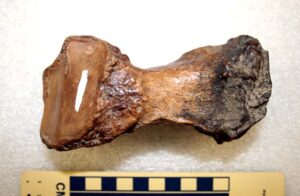 Greg McDonald is here  cataloging Megalonyx bones from the site.  He found  a right fifth metacarpal of a Paramylodon harlani that we had misidentified as a Megalonyx metatarsal.  This is the first confirmed record of a Paramylodon in Iowa.
The bone was found by the landowner, Bob Athen, in 2006 on a gravel bar about 200 feet downstream from where we are currently digging. We assumed it had been transported there by the 1993 flood that exposed the original deposit.  That may still be true.  The bone is in excellent condition and retains all of its muscle scars, etc.  It did not roll far.  An analysis of the rare earth elements in the bone may tell us if the animal died about the same time as our sloth family.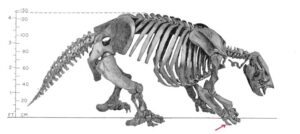 Harlan's ground sloth was the second largest of North America's four Ice Age ground sloth species, weighing in at approximately 3,070 lbs.–about  20% more than Jefferson's sloth (McDonald, 2005).  P. harlani was a grazer, or perhaps more properly a browser-grazer (Naples, 1989) and widespread on North America's grasslands.  M. jeffersonii is believed to have been a browser. . . . Dave
References
McDonald, H.G. 2005.  Paleoecology of extinct Xenarthrans and the Great American Biotic Interchange.  Bulletin of the Florida Museum of Natural History 45: 313-333.
Naples, V.L. 1989.  The feeding mechanism in the Pleistocene ground sloth, Glossotherium.  Contributions in Science, Natural History Museum of Los Angeles County 415: 1-23.